Jack up Barges & Fleets
H > EQUIPMENTS > Jack up Barges & Fleets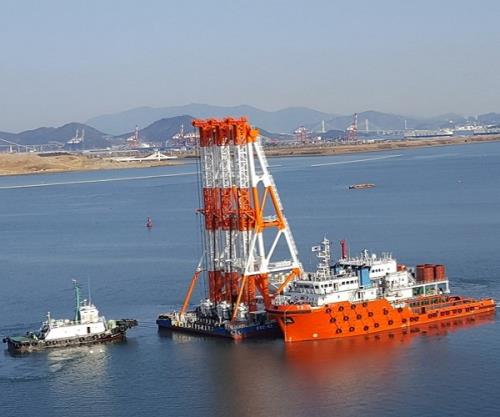 Specification
Summary
1. Using GPS system, bow can move at working position within 2% error range for precise construction.
2. As accurate injection quantity, control of working data by DCM management program, credibility of quality is improved.
3. Space of 3 rows leader can be controlled up to 5,400mm from 3,700mm that's why based on all of design standard, can be constructed.
General

Classification

Deep Cement Mixing Barge

Yard

Korea

Built

2017

Flag/Port of Registry

TOGO / LOME




Main Dimension

Length

65.00 m

Breadth

28.00 m

Depth

4.00 m

GRT

2,417 tons

Leader Length

54.00 m

Working Depth

- 43.50m




Generator

for Auger Operation

1,200 KW x 3 EA

For Winch and Plant

350 KW x 1 EA

For Maintenance

125 KW x 1 EA




Winch

For DCM barge setting

20t x 15m/min x 5 EA

for Auger operation

20t x 21m/min x 3 EA

for Maintenance

3t x 60m/min x 4 EA




Multi Auger

Auger

150HP Motor x 3 EA

Number of Auger

3 Multi augers x 3 Rigs

Auger speed control

Gear Box ratio 40:1 x 3 Sets



Cement Silo

Fixed type Silo

90 ton x 6 EA

Movable Silo

90 ton x 6 EA

Compressor

5HP, 6㎥/min x 3 EA

Silo Pump

Max 300L/min x 12EA

Agitator

7㎥ x 3 EA

Mixer Plant

1.7㎥ x 6 EA

Flow meter

12 EA for slurry flow value check

(0 ~ 500L/min)