Offshore Marine
H > BUSINESS > Offshore Marine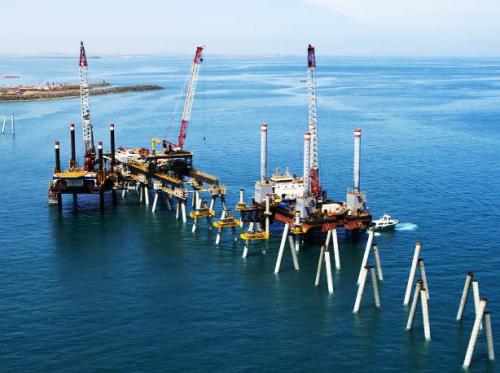 Marine Piling

Marine Piling by Jack Up Barges
Marine Piling by Jack Up Barges
An improved pile driving method is disclosed, which is particularly applicable in piling into a hard rock bed widely in the construction of buildings, bridges, harbor facilities, piers and so forth. High-pressure water guide pipe is attached to a pile to be driven, in a manner of being movable within a certain limit, and while effecting a removal of rock pieces produced by crushing, through jetting a water supplied under pressure through the guide pipe, driving of the pile is worked by a vibration pile driver. This method employs a reduced amount and suppressed pressure of water to be jetted than conventional methods.
1. Allows for accurate construction in the extreme circumstance caused by wind, wave and current.
2. Allows for multiple piling location by piling frame on Jack Up Barges without any repositioning.
3. Allows for multiple raker piling without additional piling jacket.
4. Apply accurate piling site like steel pipe sheet pile.
5. Secure safety for workers.
6. Adjust piling level by Jack Up system(Long Pile can be installed without jointing).