Offshore Marine
H > BUSINESS > Offshore Marine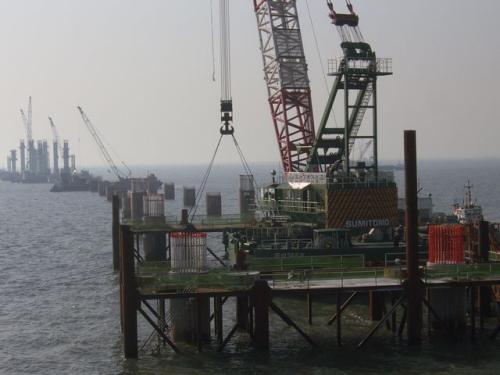 R.C.D

Reverse Circulation Drilling
R.C.D (Reverse Circulation Drilling)
RCD, also called air-lift drilling, is known as robust and uncomplicated system which is highly efficient for large diameters and depths, on-and offshore. Compressed air is injected into the drill pile below water level, slightly above the cutting head. The air, rising and expanding within the drill pipe, greatly reduces the density of the internal fluid column, creating a differential pressure.
between the fluid in the drill hole outside and the fluid inside the drill pipe. Due to the higher density of the outer column, the solids pass from the drill hole, through the cutting head suction opening and rise up through the drill pipe.
Provided the correct air/fluid flow is established within the drill pipe, the airlift principle is utilized for transporting solids to the surface. The amount of the differential pressure and thus the conveying capacity depends on the rate and volume of compressed air injected, the depth of injection and the delivery head.