Onshore
H > BUSINESS > Onshore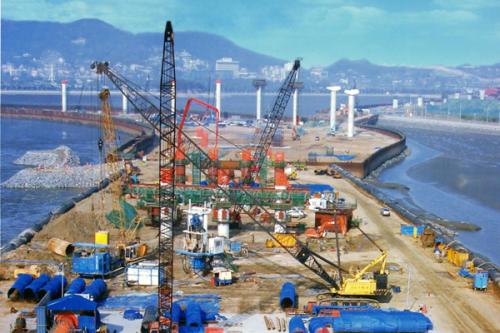 Bored Pile

Large Diameter Bored Pile by Reverse Circulation Drill
Large Diameter Bored Pile by Reverse Circulation Drill
Large diameter bored piles were developed principally to cope with higher building loads and economical advantage of reducing pile cap construction. The piles are effective in a wide range of soils but are particularly economical when boring on a firm founding strata.
The ground is removed by an excavating tool, such as a bucket, auger or core barrel, mounted on a crane equipped with an appropriate rotary table.
The boring is possible in a variety of soils, from soft ground to loose rock.
While boring, a recoverable steel casing is pushed into the ground.
In order to avoid any penetration of soil or water into the casing, soil plugs should be maintained inside the casing during boring.
In the case of high ground water table, the hydrostatic excess pressure can be maintained inside the casing in order to avoid decompression or erosion of the soil surrounding the pile.
When a resistant layer is reached, pile base is cleaned and reinforcement cage is installed in the pile, by using drilling unit. The pile is concreted using a tremmie pipe to avoid concrete segregation. The use of a tremmie pipe, or bell, is possible even under water.