Offshore Marine
H > BUSINESS > Offshore Marine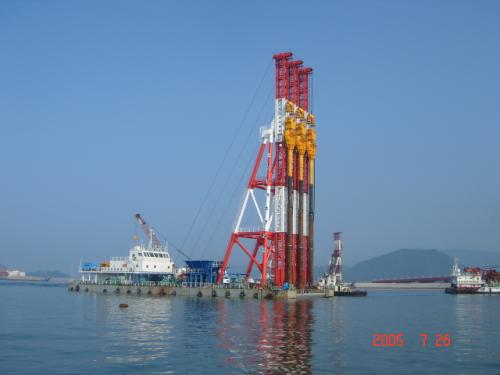 R.M.L

Rubble Mound Leveling Method
R.M.L (Rubber Mounting Leveling Method)
Rubble Mound Leveling Method is leveling rubble mound under the deep sea using S.C.P(Sans Compaction Pile) vessel equipped with giant steel tamper at the bottom end of steel casing and vibrator at the top of the casing.

1. Settlement of structures can be restrained because tamping is made more hard by vibrating.
2. This R.L.M method is of high efficiency and of high safety by mechanized work execution.
3. Position control system, work management system of S.C.P vessel and computer control system are used enabling very high accuracy works.
4. Tamper angle adjustment device can be adopted to the steel tamper to enable leveling work for the slope area.
| | | | |
| --- | --- | --- | --- |
| Leveling Capacity | Maximum water depth | Size of Rubble | Accuracy of leveling |
| 100 ~ 350 m2 / day | -50 m | 50 ~ 200 kg / ea | ± 10 cm |